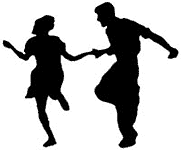 Last Thursday I went to Christina's swing dance lesson after school. Being an avid dancer, I was excited to dance. Unfortunately, I know how to dance, so going to the lesson was like going to kindergarten again. Annoyingly simple for someone who has been dancing for years.
But that's just me! I already know how to swing dance, but the majority don't. Anyone who has never danced before can waltz in and start swinging. The instructor is very nice, and anybody can dance any part.
Traditionally there is a lead and a follow. The man would lead, the woman follows. But in the true modern style, any gender can dance any part. We don't want your restrictions! But I recommend for follows to wear a skirt of some sort, because the spinning can be very pretty.
Some of the types of dancing taught are West Coast Swing, East Coast Swing, line dances, and latin influenced dances such as the Cha-Cha. To give a brief history, swing dance in general started around the 1930's. But back then, all the types were called by their names instead of grouped under a broad term.
The oldest form of swing I know how to dance is Lindy Hop. It came from the Charleston, which can be incorporated into many versions of swing dance. Lindy is very fun to watch when the dancers know each other's styles well and can do tricks, which include kicking, spinning, and jumping.
Later, Lindy Hop evolved into West Coast swing. West coast swing is also known as triple step in some communities. This is because the music is slower, so dancers add steps to keep the dance visually interesting as well as fun.
On the east coast, Lindy evolved into East Coast Swing. What differs between the East and West coast dances is the step. While East coast is "One, two, three-and one, two, three-and" West coast is "One and two, three and four, five six". This causes most newcomers to prefer East coast for the simplicity of the steps. Personally East coast is my favorite, because I know more tricks and more people will dance with me than West coast.
In Seattle, Swing Dance is very popular. The University of Washington has a dance on Thursday nights that some of my friends go to. But the most popular event that I know of is Century Ballroom on Sunday nights. There are some live bands that come play, and everyone is out crowding the dance floor and having fun. There are all skill levels, from the bouncy first timer to the elegant veterans.
Here at Nova, we have our own class for beginners. If you're interested, go to the cafetorium at 4:00 on Thursdays to learn how to have the time of your life!